My Ideal Telescope
John Smith
Astronomy is the hobby that I choose because I enjoy learning about the structure of our universe. It also gives me relaxation from this fast paced life we live in. In particular I enjoy star hopping in search of distant galaxies.
My first telescope was an 8-inch Celestron Schmidt- Cassegrain on a German Equatorial Mount with a wooden tripod. It had manual tracking, which helped me learn the art of star hopping along with recognizing the constellations and major stars. I also found out how important it was to have a good finder scope. I bought an 8x50 which allows me to have a wide field of view along with being able to see many of the brighter deep sky objects directly through the finder. Fighting dew was something an SCT allowed me to become efficient at. The corrector plate is exposed to the cold nighttime air. I made heaters out of resistors and used my wife's seamstress skills to make a sheath with Velcro to attach the dew heaters. The telescope is very portable and easy to set up. The right ascension and declination knobs were easy to reach at times, but when the scope was pointed in some positions it was a bit hard to maneuver. Looking through the eyepiece and turning the knobs sometimes sent the telescope in the wrong direction, causing me to become lost in space. My skills improved after observing the Messier list, and even more so after completing the Herschel 400 list. I still never became fully conformable at operating the scope. The tripod was a bit shaky even when tightening the bolts and collapsing the legs to their lowest position. I would have to raise the legs up to observe at the zenith, which became annoying at times. Observing the planets always was not as sharp as in a refractor type telescope.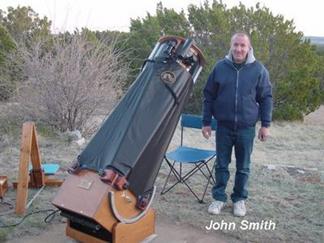 When I started observing the Herschel 400II list, I found that I needed a larger aperture mirror. I did some research on which telescope would become my "Ideal Telescope". I found that a truss tube scope with about a 15" mirror at F/4.5 would be right for me. I am 5' 5" tall, and most observing could be done while I was standing or seated. I would need a small platform about the size of a case of pop to observe at the zenith. I didn't consider larger scopes that would require my having to go up and down a ladder. Also I had to consider how much weight I was willing to move around; my observing sessions are not at a fixed location. Remember, this is supposed to be a relaxing and enjoyable hobby that I like to do every chance I get.
So, as my ideal telescope, I chose an Obsession 15" f/4.5. It is a manual scope, which means that I push or pull the scope to point it to the object I want to see. Options such as Go-To are available. I chose to upgrade to a two-speed focuser and purchase a shroud to go over the truss tubes. The mirror box and rocker is extremely well built and the telescope is as good to look at as it is to look through. Together with the mirror and cell, it weighs 60 lbs. I attach wheelbarrow handles, supplied with the scope, and lift 10 lbs., which I wheel up ramps into my vehicle. The scope is basically three sections - rocker box, truss tubes, and upper tube assembly. The finder scope and shroud also have to be attached. The entire setup process takes about twenty minutes; collimation takes about one minute. If the mirror is not acclimated to the outside temperature, the supplied cooling fan takes about one hour to cool down the mirror. This scope has very smooth motions in R.A. and Dec. Vibration while using high power is non existent. Star hopping with this scope is so easy, there is almost no learning curve - its movements seem natural. Observing planets with a 15" mirror shows a wealth of detail. One negative thing about a reflector scope is that they have a rather small sweet spot where the images of stars are pinpoints. At the outer edge of the field, stars become elongated due to the coma typical of mirrors with this degree of curvature. This scope is not set up do Astrophotography; I enjoy sketching my observations. A Dob-driver platform can be used to make the scope track the sky. For me this is my "Ideal Telescope" for observing the deep sky.
P. S.: I'm also on the waiting list to order an Astro Physics refractor so I can have the best of both worlds.
Published in the January 2005 issue of the NightTimes