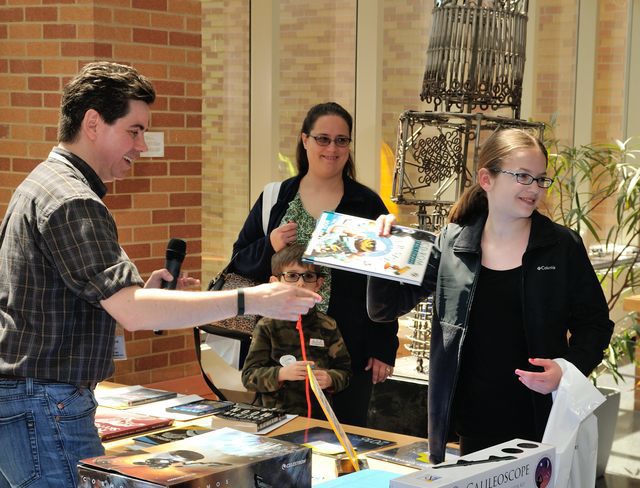 By Dave Wagner
Astronomy Day 2017 - FREE EVENT!
Mark your calendars for Saturday, April 29th. The Lake County Astronomical Society (LCAS) will again be hosting this event at the College of Lake County in their Technology Building. (Map)
Astronomy Day is an annual worldwide event intended to provide for interaction between the general public and various astronomy enthusiasts, groups and professionals.
Door Prize Drawings! Get a door prize ticket before 3pm for a chance to win astronomy related items!
We have both a day program (rain or shine) and an evening program (weather permitting) again this year. We'll have a plenty to see and do during the day, then come back in the evening and view the moon and other objects through our powerful telescopes!
Last year's event was a great success, with hundreds of people showing up to learn about all aspects of astronomy. Both the daytime and evening activites were a great success. There was also a lot to do indoors with the exhibits and demonstrations.
Day Time Events and Activities
(Planned from 10am to 4pm)
Solar Observing - using special telescopes and equipment (outdoors)

Tour a Scale Model of the Solar System (outdoors)

Telescope Clinic - Bring your telescope for help with setup and use. Questions welcome!

Hands on Telescopes - learn how to use our 'Kid Powered Telescope'

Comet Making - Dr. Comet will make a comet along with some of our guests!

Kids Table - Crafts for very young astronomers

Star Talks - short presentations on astronomy related topics

Exhibits - Astrophotography, telescopes, light pollution, planetarium software, moon globe, moon maps, star maps, etc. We will have many free handouts on the sky and about the hobby of astronomy.

Door Prize Drawings!

Night Time Events and Activities
(Planned from 7pm to 10pm Weather permitting)
Telescope Observing - members set up a variety of telescopes and provide amazing views of the night sky. Primary objects will be, the Moon, Jupiter, and other astronomical wonders.

Kids will get free stickers and a glow stick bracelet.

View Past Astronomy Day Images
Downloadable Maps