LoanStar - Library Telescope Program


November 2017 Update!
It's been a while since our last update, but the LoanStar program continues to flourish! Our NEWEST LoanStar member... is WARREN-NEWPORT library! LCAS has recently donated a telescope to Warren-Newport, and they plan to get it into circulation soon (late 2017 / early 2018).
At our other partner libraries, several have invested in the purchase of additional LoanStar Telescopes to reduce patron backlog on checkout. LCAS has now delivered an additional 3 telescopes to Vernon Hills (they now have 13 scopes!!), as well as 1 more to Lake Villa and 2 more to Deerfield.
We now have 52 LoanStar telescopes at Lake County area libraries (9 donated by LCAS, the remainder purchased by the library).

December 2016 Update!
As forecast, our latest library partner, Vernon Area Public Library, is now circulating 10 LoanStar telescopes! We have also just recently donated a telescope to Deerfield library! They are in the process of building that program, and will be loaning out their telescope to patrons later this year!
With additional purchases (2) at Lake Villa library, we now have 45 telescopes placed at Lake County area libraries!! Here are links to some of the more recent, and historical press coverage on LoanStar!
Article 1
Article 2

November 2016 Update!
In 2016, the Library Telescope Program, 'LoanStar' continues to grow. Our partner libraries now include Ela, Fremont, Indian Trails, Wauconda, Cook and Lake Villa libraries. We have just added Vernon Hills library late this year, and we expect they will be circulating telescopes starting in 2017!
The number of telescopes has also risen at our existing partner libraries, as they add more telescopes to meet the demands of their patrons. There are 32 telescopes in 'circulation' about the Lake County area, and we have recently ordered 14 more! We expect to have more than 40 telescopes located at our library partners by the end of this year!
A program like this is made possible by YOUR LOCAL LIBRARIES! It takes special effort and creates challenges for them, but they do it to provide new and exciting possibilities for YOU!

August 2015 Update!
As of this date, LCAS has delivered 21 telescopes to Lake County Libraries to be loaned out to library patrons! This year we added Wauconda and Cook libraries to our library partners. Two of our 2014 library partners, Ela and Fremont libraries, have added (purchased) many additional telescopes to help handle the large backlog of request for the LoanStar telescope!


LoanStar April 2014 - Library Telescope Program
In April of 2014, LCAS members voted to purchase 3 Orion StarBlast telescopes, and modify them for use as 'library telescopes'. One telescope was to be donated to each of three libraries, who could meet a minimum criteria (capability to loan out and manage high value non-media items) and were willing to develop a library telescope program at their facility. The expectation of each library is that they would eventually loan out this telescope to their patrons.

The overriding purpose of the LoanStar program is to promote the interest and participation in astronomy. Teaming with local libraries for LoanStar is a natural extension of our ongoing outreach approach. So far, over 10,000 participants have already benefited in our Astronomy Under the City Lights (AUTCL) program, hosted by LCAS at many libraries around the Lake County area. LoanStar will bring more of that 'hands on' approach to outreach, but at a whole new level! For those libraries who are actively participating in this program, demand has been high, and feedback has been very positive!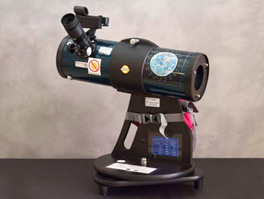 PROGRAM STATUS - LCAS donated 3 modified Orion StarBlast telescopes in 2014 to the Ela Area Public Library, Freemont Library, and at the Indian Trails Public Library. Two additional telescopes are being donated in 2015 to the Wauconda Library and Cook library. Additional libraries are being considered for additional club donations at this time. Several of the libraries have purchased additional telescopes in order to deal with the high demand by patrons to borrow the telescopes. In this case the library purchases all the materials to create the LoanStar telescope and LCAS provides the labor to complete the conversions.


THANKS! - While LCAS independently selected the Orion StarBlast as a rugged and user friendly scope, appropriate for this task, we discovered we were not the only club who selected this scope, or the first club to initiate a library telescope program! In 2008, the New Hampshire Astronomical Society (NHAS) had launched a library telescope program of their own. Not only was the program an unmitigated success (over 100 telescopes have been placed by the club), but they have shared their recipe and experience with LCAS, to allow us to move very quickly in setting up and executing this program in our area. Read more about the NHAS Library Telescope Program here! You will note that the LoanStar looks surprisingly similar to the NHAS version! That's simply because we have basically copied their recipe, and are taking advantage of their experience in ruggedizing these telescopes. A program like this also requires significant funding. LCAS also owes a big dose of gratitude to the friends and family of astronomy enthusiast Larry Benedict for their generous donations in his memory.
If you have questions or comments you'd like to share with us on this outreach program, please drop us and email at: loanstar@lcas-astronomy.org